GO TYME GRYND YOUTH FITNESS CAMPS
GO TYME GRYND YOUTH FITNESS CAMPS
(Sign-up anytime-make up missed sessions when new Camp sessions begin)
| Session Duration | Session Dates |
| --- | --- |
| Premium Package (10-Weeks) | July 11, 2023-September 14, 2023 |
| | September 19, 2023-November 28, 2023 |
| Classic Package (3-Weeks) | December 5, 2023-February 15, 2024 |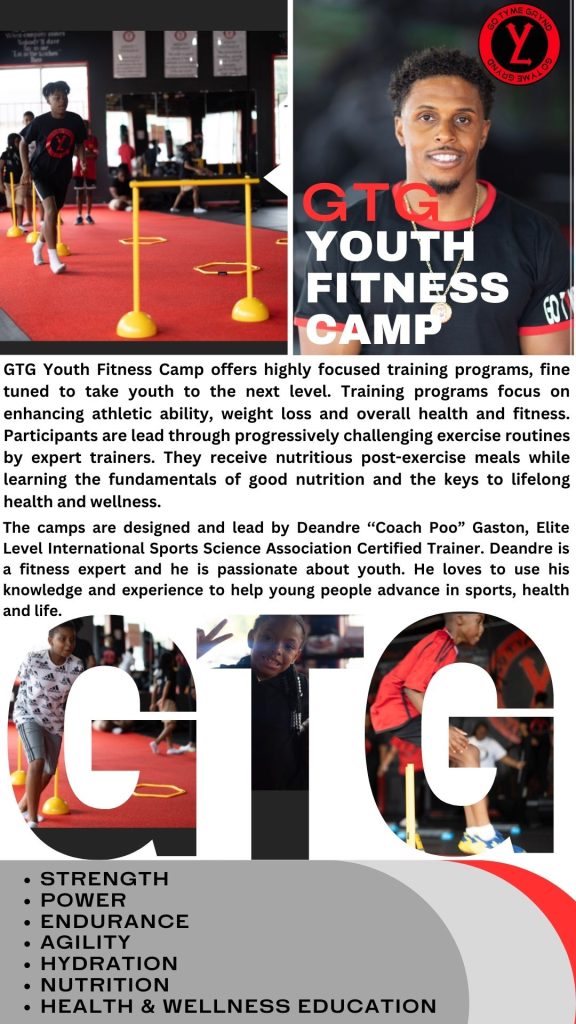 ATHLETIC ADVANTAGE CAMP (ages 6-18)
The Athletic Advantage Camp is specifically designed to take young athletes to the next level. It enhances strength, explosiveness, and agility. Teaching young athletes, the nutrition necessary for competitive advantage and healthy lifestyle habits that push them to peak performance. It is an intense, fast-paced combination of strength, plyometric, and core-strength training. The intensity of this camp requires participants to be willing to work hard and have a basic level of fitness and familiarity with athletic activity.
Weekly Schedule
Tuesday & Thursday
6:00 PM – 7:30 PM
WEIGHT CONTROL & BODY GOALS CAMP (ages 6-18)
The Weight Control & Body Goal Camp is designed for young people who are overweight, obese, or moving in that direction. Allowing them to get active and fit while teaching them the importance of health and the keys to achieving and maintaining it. They will also learn to set and accomplish body goals. Routines aim at weight loss and muscle tone in a way that's fun, challenging, and fit for all fitness levels.
Weekly Schedule
Tuesday & Thursday
4:30 PM – 6:00 PM
ACTIVE & FIT LIFESTYLE CAMP (ages 6-18)
The Active & Fit Lifestyle Camp exists because with the advancement of technology and the proliferation of entertainment our young people are becoming increasingly less active. This camp gets young people off the couch and allows them to encounter fitness in a fun way. They receive the benefits of fitness while creating long-lasting good mental associations with exercise and healthy nutrition. They will learn from discussions about health and wellness.
Weekly Schedule
Tuesday & Thursday
4:30 PM – 6:00 PM
Sample Weekly Agenda (Each session is 1.5 hours)
5-Minute: Gathering
5-Minute: Warm-up & Stretch Routine
45-Minute: Exercise Routine (routines & intensity vary depending on program)
5-Minute Cool Down
20-Minute Post-Workout Snack & Education Discussion
Grynd House Fitness Center, 3403 Monroe St. Toledo, Ohio 43606
419-702-0509 [email protected]
*Closed All Major Holidays & TPS Weather Related Closures*
Do not waste time! To get started hit the Join Now button!